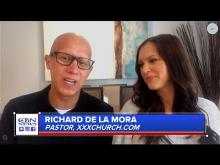 'Incredible Redemption': Former Porn Star to Lead XXXChurch that Rescued Her from Darkness
Brittni De La Mora was once a high profile actor in the porn industry.  
She performed in hundreds of films, was named one of Maxim Magazine's top 12 female performers in porn and she also placed second in a porn ranking on Playboy TV.
"I was in the adult film industry for seven years of my life, from 18 to 25," Brittni told CBN News."
After becoming a born-again Christian, Brittni now works to save others from a life of pornography.